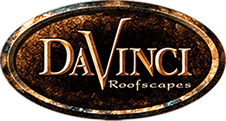 Need another reason to upgrade to a DaVinci roof? Homeowners save thousands of dollars on insurance premiums when they install a DaVinci roof on their home.
DaVinci roofing materials are made of 100% polymer and are wind, water, hail, and fire resistant. No more worries about hail damage during storms, and insurance providers reward homeowners by reducing insurance premiums.
DaVinci roofs comes with a lifetime limited material warranty, and every DaVinci roof that the Rooferees install comes with a 5-year workmanship warranty!
And when the Rooferees install your DaVinci roof, you can trust you will receive quality, reliable service. Weatherguard  Inc. is the #1 DaVinci roof installer in the country, and we are certified through DaVinci with the American Institute of Architects, so you know you are getting the best!
Davinci offers more than 50 standard color options to choose from, and the Rooferees are experts at creating color combinations to perfectly complement the color and style of any home! Stop by our showroom and the Rooferees will help you choose the perfect roof for your home.
Start saving and install a beautiful DaVinci roof now!