Visitors to Hamburg, IA will notice a new hotel in the heart of town.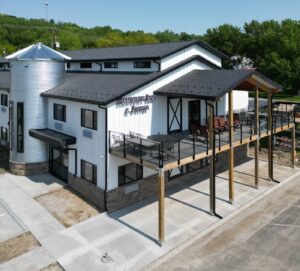 The Hamburg Inn & Suites is a brand-new hotel in the small Iowa town. The hotel was designed to resemble a large barn with a gable roof, silo, and large porch.
The Rooferees were happy to contribute to this project, which is already creating a buzz in Hamburg. We installed a DaVinci slate roof on the building, and gutters throughout. In addition, we installed Harding prefinished siding on the entire exterior.
A built-in silo adds a unique design element to the hotel, and pays homage to the long farming history in the area. The Rooferees installed the siding on the silo as well.
If your travels take you through Hamburg, or perhaps you plan a quick getaway, we'd love to hear what you think of the new Hamburg Inn & Suites!