The Blackstone District is one of Omaha's fastest growing residential and commercial areas. The Rooferees are proud to be involved in one of the latest projects in the area.
Farnam St. is the backbone of the area that extends for several blocks neat 40th & Farnam St. Several restaurants, bars, local businesses, and residential buildings comprise the Blackstone District.
Weatherguard Inc. will install the roof on a new project that is underway at 38th & Farnam St. The mixed-use complex is located on the south side of street and will meet the demands for additional housing and commercial use in the area.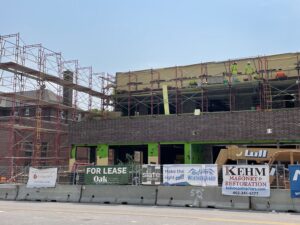 The Rooferees are committed to the Omaha community, and we are grateful for the opportunities to contribute the growth of this city. The Blackstone District occupies an area that was previously overlooked, and it is exciting to be a part of an effort to revitalize urban neighborhoods.
If you're in the area, check out the progress on the 38th & Farnam project, and while you are there, stop in and support one of the many fabulous local businesses in the Blackstone District.