John shared the stage this week with basketball legend Jay Bilas at Creighton Prep's Sports Night. Bilas was the featured speaker and John conducted the interview for the event that raises funds for athletics at the school.
It's not every day you see a player/coach/analyst and a referee sit down for a candid conversation about the sport, the games, and their past experiences on the court. Both shared a love of the game and can agree that sportsmanship and fairness are more important than wins and records.
In a recent article in the Omaha World Herald, John recounted stories of poor sportsmanship he has witnessed as a referee, the most recent at a youth club game. These experiences have shaped the way John approaches refereeing and the roofing business and was a topic addressed at the Prep Athletic event.
The format of the evening included a sit-down conversation between John and Jay, who played basketball in college and the NBA before becoming a coach and then analyst with ESPN. They addressed the sport of basketball and Bilas's path to ESPN, including his notorious criticism of the refs.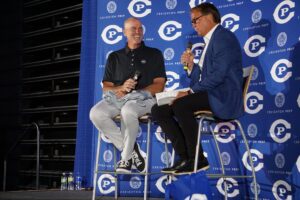 Despite their differences on the court, John and Bilas share a mutual respect for each other, which was evident during their conversation. It also included some friendly ribbing of each other, and concluded with John presenting Jay with a gift – a t-shirt that said "I Love Referees" – with a challenge to wear the shirt, and "give a little to the refs"! Bilas accepted it in good fun.
John and Jay agreed on the value of student athletes playing multiple sports. Limiting yourself to a single sport increases the risk of sports-related injuries, particularly at the high school level. There are so many lessons to be learned as a member of a team, and exposure to multiple sports and activities provides opportunities to develop into well-rounded student athlete.
John and the Weatherguard team believe each customer should be treated fairly and with respect, just like the players on the basketball court. 
As a Weatherguard customer, you can trust that we will never recommend work that isn't necessary, you will receive a fair price, and you will be treated with respect throughout the experience.