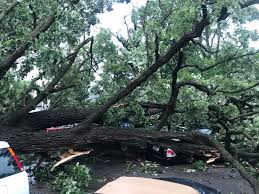 The Omaha metro area was hit by a derecho last week. The storm seemingly came out of nowhere, and left power outages, fallen trees and damage to homes in its wake.
A derecho is the Midwest's version of a hurricane, with winds speeds comparable to a hurricane. The one that hit the Omaha area is one of the strongest in recent history, and could be the nation's worst weather event of 2020.
The derecho brought wind speeds of more than 70 mph to the metro area, and believe it or not, it picked up even more speed as it made its way across Iowa and Illinois.
Homes across the area sustained damage from the derecho. Many tree limbs, and entire trees in some cases, succumbed to the power winds, leaving damage to roofs and siding. The strong winds blew shingles off some homes, leaving roofs exposed.
If your home was damaged by the storm, call the Rooferees today. We will assess the damage and work with your insurance adjuster to replace your damaged roof, siding or gutters.