Trent represented the Rooferees last week at the Omaha Executives Association (OEA) meeting. Trent recently celebrated his 20th anniversary with Weatherguard Inc., after a career as a college basketball coach. Like John, Trent has officiated basketball games for the last 20 years, leading to the affectionate nickname "the Rooferees" that the duo has come to be known as.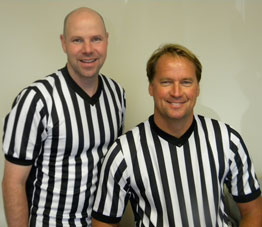 Trent spoke with the group about Weatherguard Inc., a premier residential roofing, gutters and siding company. The Rooferees have worked with many well-known commercial contractors on large projects in the area. One we are perhaps most proud of is the Cloisters on the Platte. We were the hand-selected roofer for the Christian-Catholic retreat center located on the Platte River, and visited by people from all over the world.
In addition to sharing information about Weatherguard Inc. and the company's services and philosophy, Trent shared practical, helpful tips for every homeowner.
During the winter months, ice jams are common and can cause significant damage to a roof, gutters and soffits in a home. But ice is not the cause – the problem could actually be improper ventilation in the attic. Trent shared these tips about ventilation in the attic:
Proper ventilation is key – and you can't over ventilate
You should see daylight from the soffits in the attic
Make sure your attic has the proper amount of insulation
Your home should have an equal amount of soffit vents to roof vents
Do not mix the ventilation systems in your home – stick to one and make sure it is adequate for the size of your home
Stay tuned for more in-depth information from the Rooferees about avoiding an ice jam in your home.
Trent also shared some common mistakes homeowners make when choosing a roofer without a solid, reliable reputation. We have shared reasons to avoid a stormchaser company after your roof, gutters or siding have been damaged in a storm. Stick with a local roofing company with a proven track record in the community – even better if they have been referred to you by family or friends!
And Trent never misses an opportunity to share the benefits of a DaVinci roof. Weatherguard Inc. is the #1 DaVinci roof installer in the country, and Trent himself is a Master DaVinci installer. No one knows DaVinci roofs better than Trent!
Here are just a few of the reasons Trent shared with the group about why they should consider a DaVinci roof:
No recycled materials are used so you can trust the integrity of the product
DaVinci roofing materials are made nearby in Kansas City
Roofing materials by DaVinci are Class 4 Impact, resistant to wind, hail, water and fire making this the safest roof you can buy for your home or business.
DaVinci materials are available in 49 colors in both slate and shake shingles
A DaVinci roof comes with a lifetime warranty!
If you have questions about choosing a roofing company, avoiding ice jams, DaVinci roofs – or any other roofing, siding or gutter questions – give Trent a call today!