The Rooferees recently completed a large, flat roof project at St. Cecilia Cathedral School. Last year the Rooferees replaced the roof of the building that previously housed Cathedral High School, and now includes a gymnasium and cafeteria for the school, parish meeting spaces, a cultural center, and a museum.
The previous roof of the grade school was installed in the early 1980's, shortly after John Higgins's father Roger Higgins completed his teaching tenure at the former Cathedral High School.
The Rooferees removed the old ballasted roof and thick layer of rocks. A ballasted roof membrane is not adhered to the decking in any way, but rather uses a systems of fasteners and a layer of rocks to hold it in place.
After removing the rocks and roof membrane, the Rooferees installed an adhered flat roof to the entire building. The single-ply seamless membrane is fire-resistant, weighs significantly less than a ballasted roof, and will be easier to maintain and repair for years to come.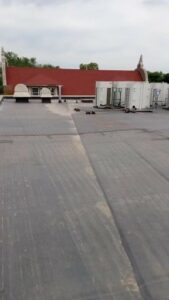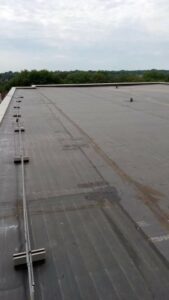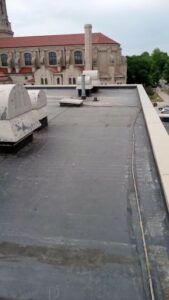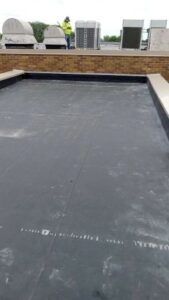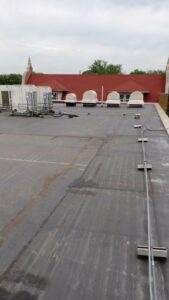 It was a wonderful experience for the Rooferees to complete this project at a place that holds a special place in the history of the Higgins family.