As the temperatures start to fall, Trent Lovewell, vice president of business development for Weatherguard Inc., starts to fill his calendar with Lunch & Learn events with local architects and contractors. Earlier this month he was at the office of Jackson & Jackson architects.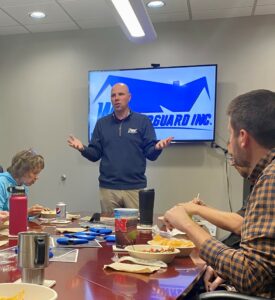 Trent is a DaVinci roof expert, developed a presentation highlighting the many benefits of a DaVinci roof so that architects, builders, and designers can incorporate it into plans and recommendations for clients.
Trent's Lunch & Learn presentation features some of the newest products offered by DaVinci, including the Province Slate and Hand Split Siding roofing materials.
Lunch and Learn participants learn about DaVinci's lifetime guarantee, as well as the many benefits of a DaVinci roof, including their class 4 impact resistant rating, fade and fire resistance!  Not only does a DaVinci roof last much longer than asphalt or shake, eliminating the need to replace it frequently.
As the #1 DaVinci installer in the country, the Rooferees have installed more roofs than any other installer and are the experts when it comes to choosing a color combination from the nearly 50 color options. Weatherguard Inc. customers may be able to reduce some supply chain and inflation issues by selecting from a wide variety of materials that the Rooferees have on hand.
Trent shared tips and recommendation with the Jackson & Jackson architects. He recommends including as many details as possible into roof plans in order to reduce waste, delays, and confusion during a build.
We have so much information to share about DaVinci roofs, and the value they add to any structure. Builders, architects and designers have an opportunity to ask questions, see samples of the materials, and learn how they can bring additional value to their clients. AIA members will earn one credit hour from attending the presentation. If you would like to schedule a Lunch & Learn with the Rooferees, contact Trent at Trent@rooferees.com or 402-557-5714 to schedule a presentation at your office – he'll bring the coffee or lunch!