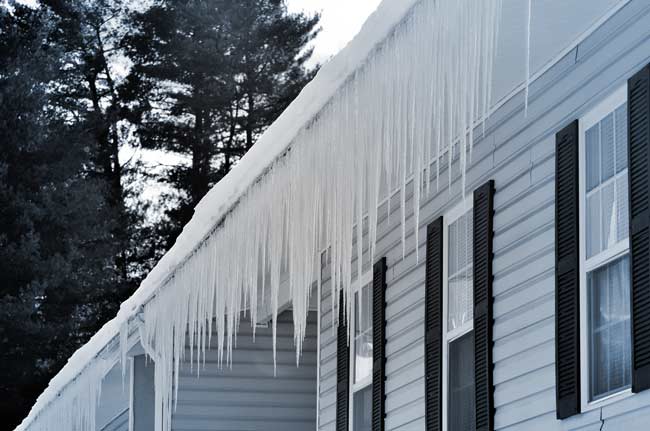 The Omaha area has dodged the major snowstorms so far this winter, but winter is far from over, and even a little snow and precipitation can cause major problems for homeowners.
When icicles hang from roofs and gutters, it may look picturesque, but it could be hiding significant issues for your home. Icicles form when conditions are right – snow-covered roofs and frozen water – and can lead to dangerous ice dams, which are solid ridges of ice that build up along the eaves. Ice dams can pull down gutters, cause shingles to loosen and water to back up into your home, which can lead to all sorts of problems.
Many homeowners try to remedy the problem themselves with roof rakes or other measures. Icy conditions make this a dangerous job and we recommend you leave it up to the professionals, particularly for multistory homes.
After the snow melts, check for sagging gutters or warped roofs. A warped roof indicates that the wood underneath the shingles has been damaged, which leads to significant problems. If you notice warping or sagging, or peeling or bubbling shingles, give us a call to come out and evaluate the damage.
Recognizing damage on roofs can be difficult in the winter, especially when snow remains, but skylights can provide clues that you have an issue. A leaking skylight could indicate improper installation or inadequate insulation or a roof that is leaking and it should be addressed immediately before further damage occurs.
If you are concerned that winter has taken its toll on your roof or gutters, and you have some damage, contact your insurance company to have the problem inspected. Weatherguard can inspect your roof and diagnose the problem. Weatherguard has been providing quality roofing, siding and guttering in the Omaha area for more than 30 years.