Omaha's busiest intersection has a new landmark. If you have driven through 72nd & Dodge St. recently you probably noticed a new residential housing unit on the northeast corner.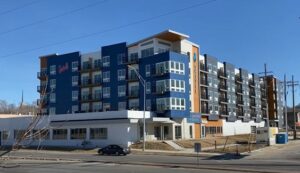 Swivel Apartments are the newest addition to this part of town, and the 158 unit includes studio and one-bedroom apartments. Residents have already moved into this convenient location.
The Swivel Apartments are an eye-catching addition to this popular area of Omaha, bringing an updated look to this well-traveled corridor. You can't miss the royal blue siding on the west-facing front of the building, and Weatherguard Inc. was proud to partner with Lund-Ross Constructors on this project.
We love partnering with other Omaha companies on high-profile projects like the Swivel Apartments. We especially love the bold, sleek design of this project.
John Higgins Weatherguard Inc. does more than roofing. Contact us for your commercial or residential siding needs.