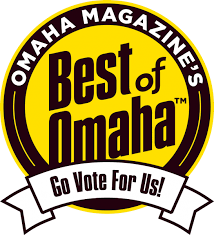 Voting is now open in the Best of Omaha contest – and your vote would mean a lot to us!
The Rooferees of Weatherguard Inc. work hard to earn the trust and loyalty of each our customers by providing quality, reliable service on every job. But don't just take our word for it – see what some of our loyal customers have said recently:
"Very knowledgeable, they answered all my questions & more. The office was very friendly, and the employees very helpful." – Tom M., Omaha
"I have had the pleasure of knowing Trent at John Higgins Weatherguard for a number of years. He and his company are first class. When I asked Trent to replace my roof I couldn't have asked for a better experience. His "Team" did a great job and they were under budget!! Nice job!" – James T., Omaha
"This a great company to work with. They replaced my roof, gutters and siding. Everyone is very friendly and responded quickly to all the questions and the concerns that I had throughout the process. The roof crew worked very long hours and had my roof done in close to one and a half days. The entire team, from the office staff to the guys on-site working, were awesome! They completed the siding and gutters very quickly as well. I thought it would take over a week to get the job done and again this team exceeded my expectations! My house looks like a brand-new home!! I highly recommend Weatherguard! Thank you!" – Elizabeth S.
"I can't say enough about the quality and attention to detail that John Higgins Weatherguard provided. I have called on the Rooferees twice and both times have been impressed not only with the timeliness of the work but the customer service and follow-up. If you are looking for a new roof, look no further than John Higgins Weatherguard." – Travis J.
You can vote for Weatherguard Inc. as your favorite roofer HERE. Voting ends on Aug. 20 so don't wait!
If you need a new roof, siding or gutter system for your home, give the Rooferees a call today!